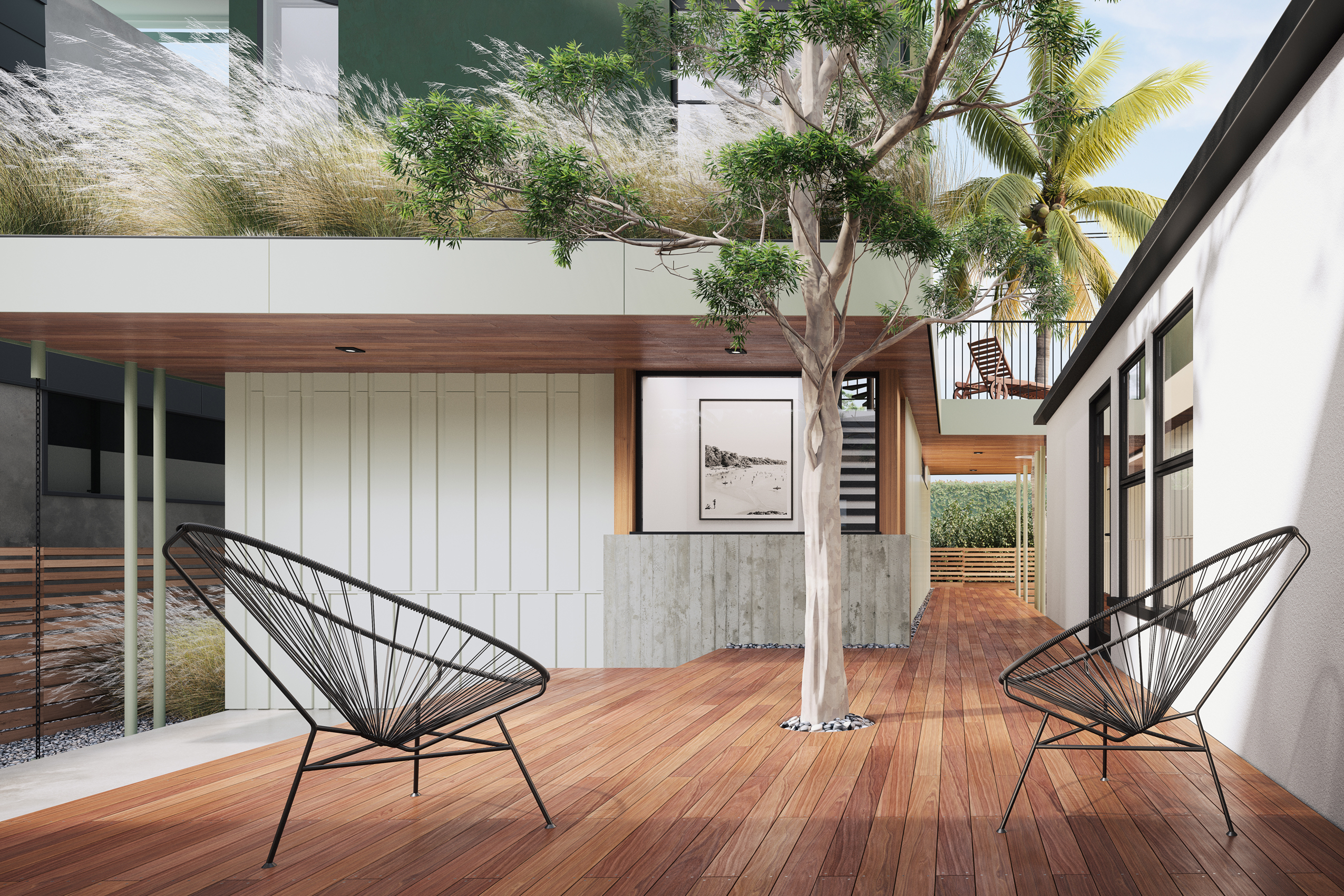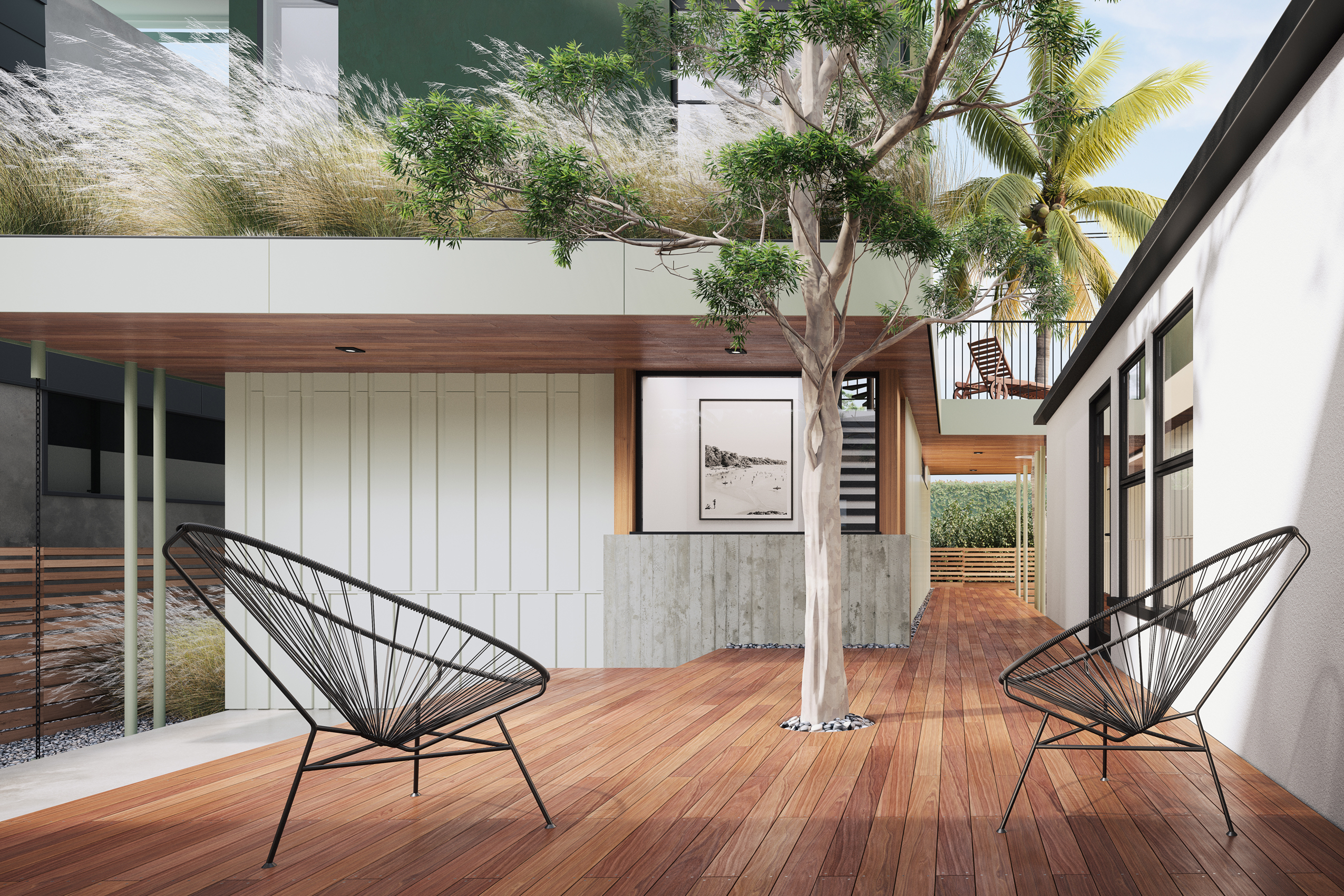 location_
3981 Beethoven St.
Los Angeles, CA. 90066
United States of America
site area_
4,601 sq ft / 0.0427 hectares
site size_
1,100 gross sq ft / 102.19 gross sq m
This is an existing 1952, three bedroom, three bath, post and beam home, with a detached two car garage. The program is to demolish the existing garage and rebuild a new detached garage with an adu on top of maximum allowable 1,100 sq ft. The zoning allows for a maximum height limit of 43 feet, but only two stories. Therefor the floor to floor plate heights will be plus 10 feet, allowing for a loft zone as well.
The deck facing northwest, will have the backyards existing queen palm poke through the deck, and under the deck will have a cedar soffit, with a motorized drop down movie screen, of 10' for those warm summer time out door movie nights.
The creation of the semi "L" shaped adu, in turn without reservation, an opportunity to invent an outdoor courtyard space that connects the existing home to the new adu through the usage of the existing homes 9' wide bi-folding doors that again connects the inside to the outside.
We have placed a mature eucalyptus tree in the center to create more green space that can be appreciated by both the new adu and the existing home. The green roof seen from the street down the semi tight driveway, allows the green space being taken up, added to the new user, from multiple views of the massive new glazing, in the southern and western sides of the adu.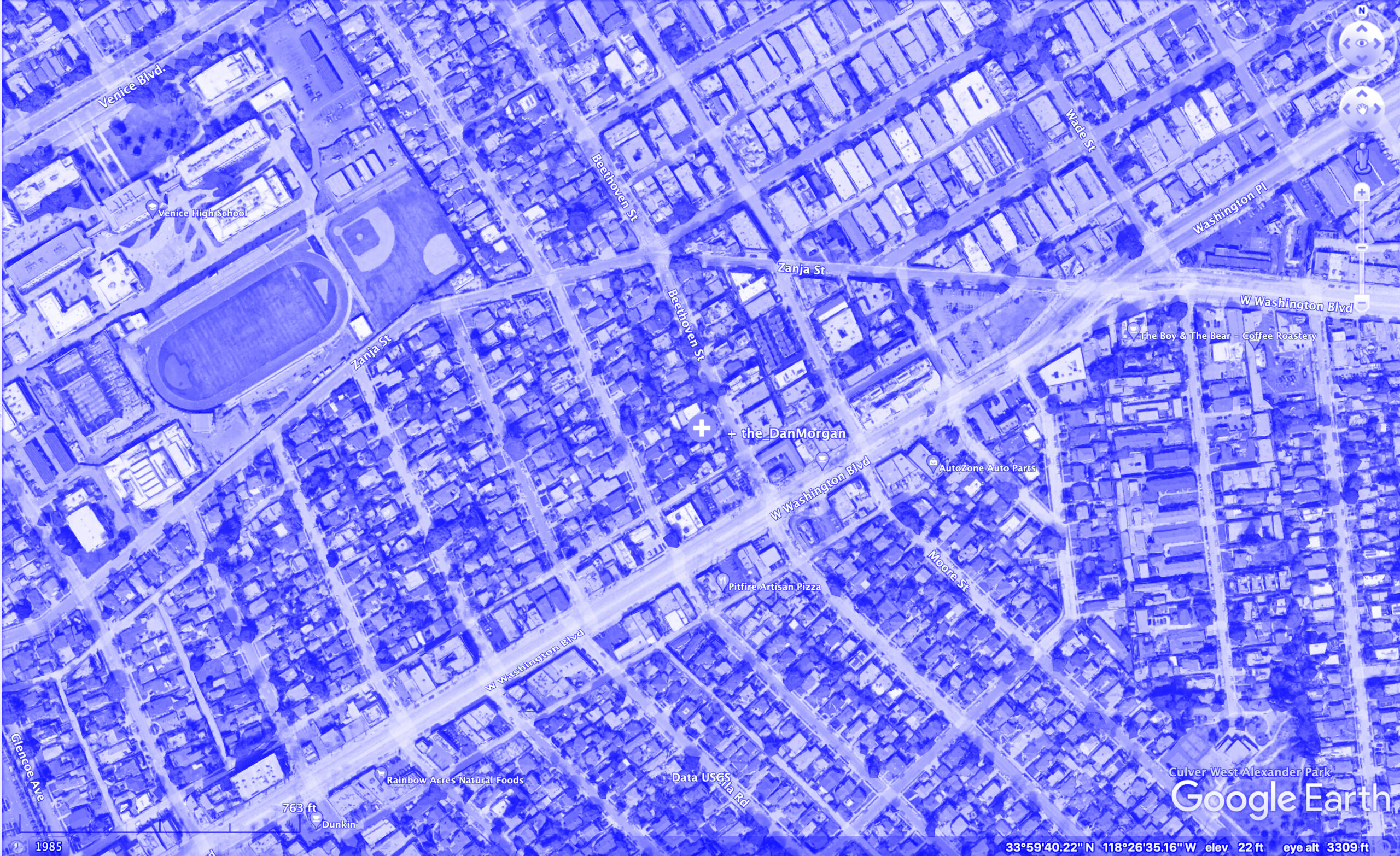 The additions, exterior is cladded in a white washed cedar, hung on a rain screen system that allows the wood to expand and contract naturally, while the dark green smooth steel troweled stucco under, keeps the U value and vapor barrier secure.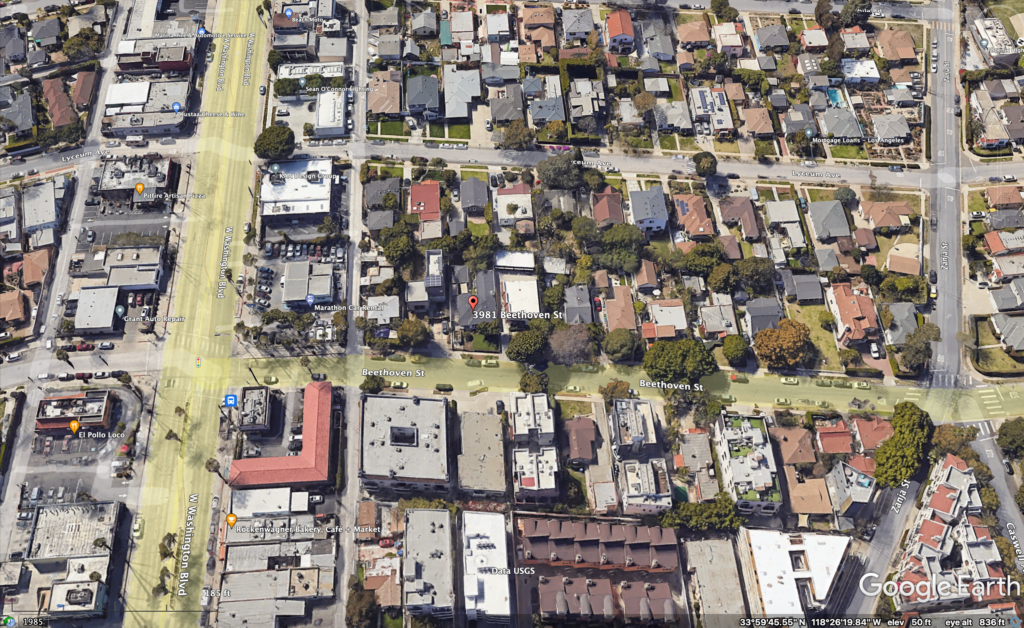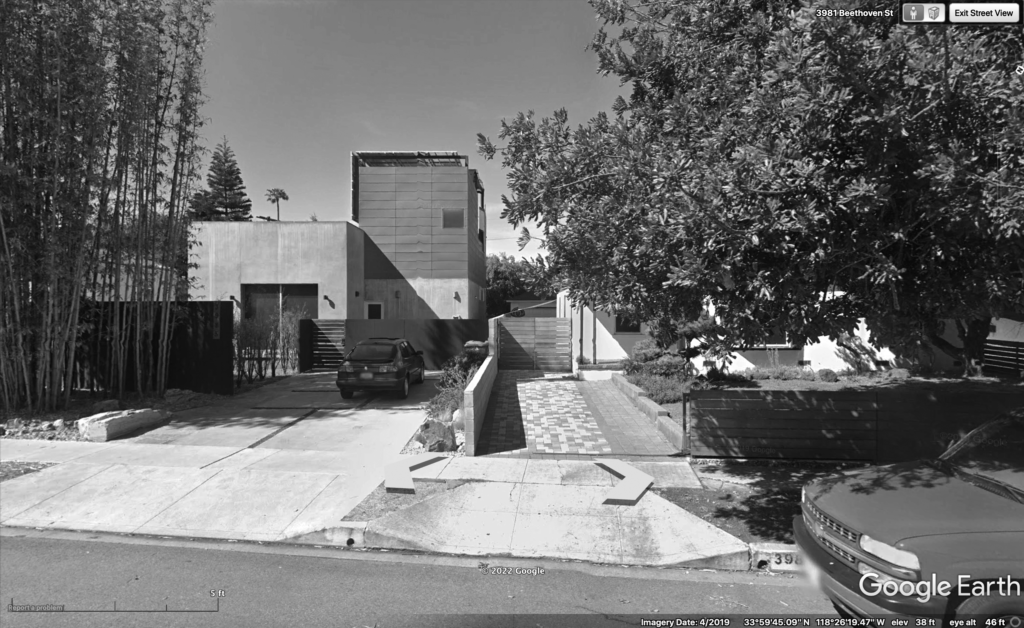 + gallery /
The addition of a set of 10 foot wide, 10 foot tall pocket doors, allows for an interior to exterior relationship that passively cools the home along with the use of the homes several strategically located skylights. The open plan and the use of the homes exterior materials, used on the inside, blurs the users ideals from wha truly is the outside versus the inside.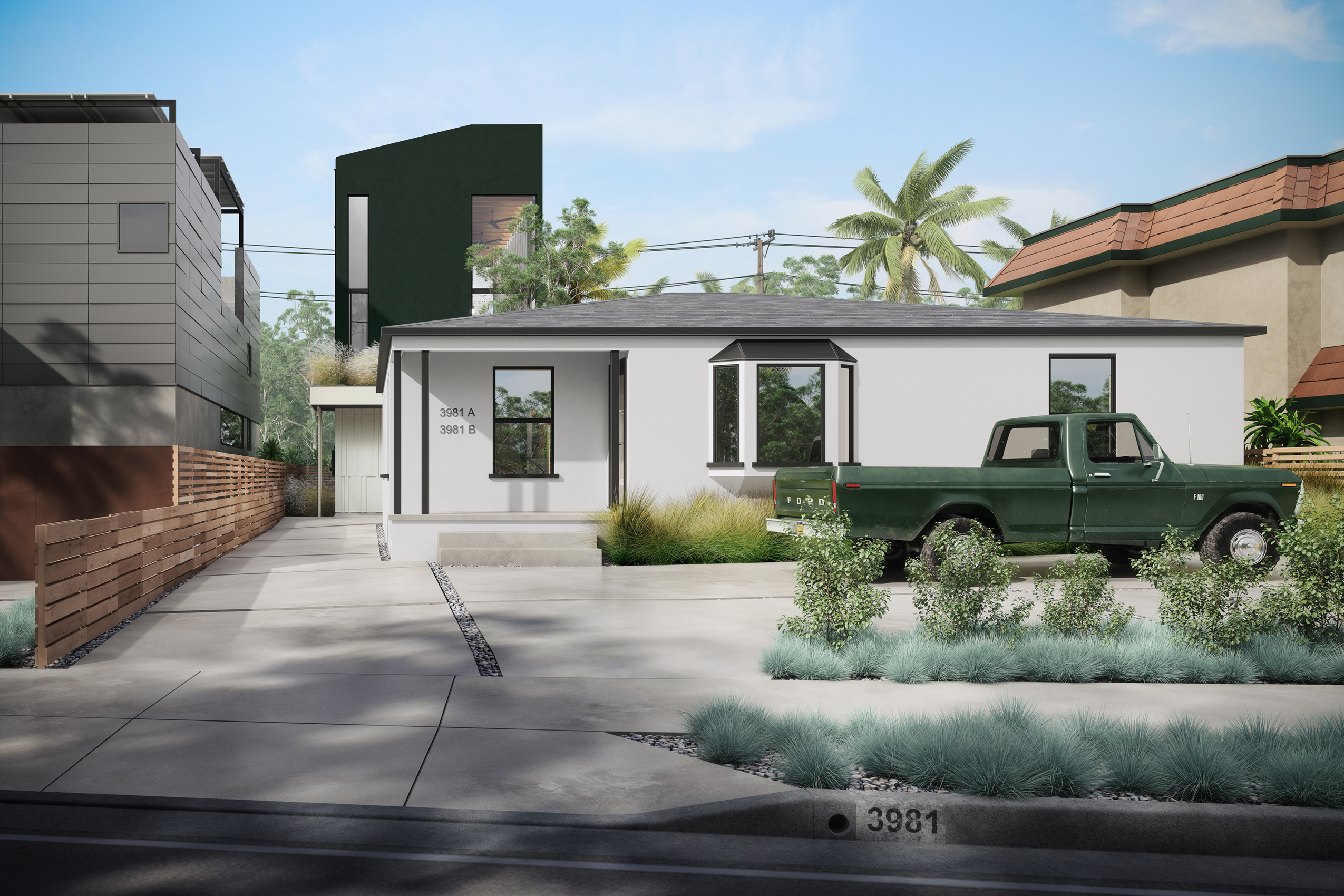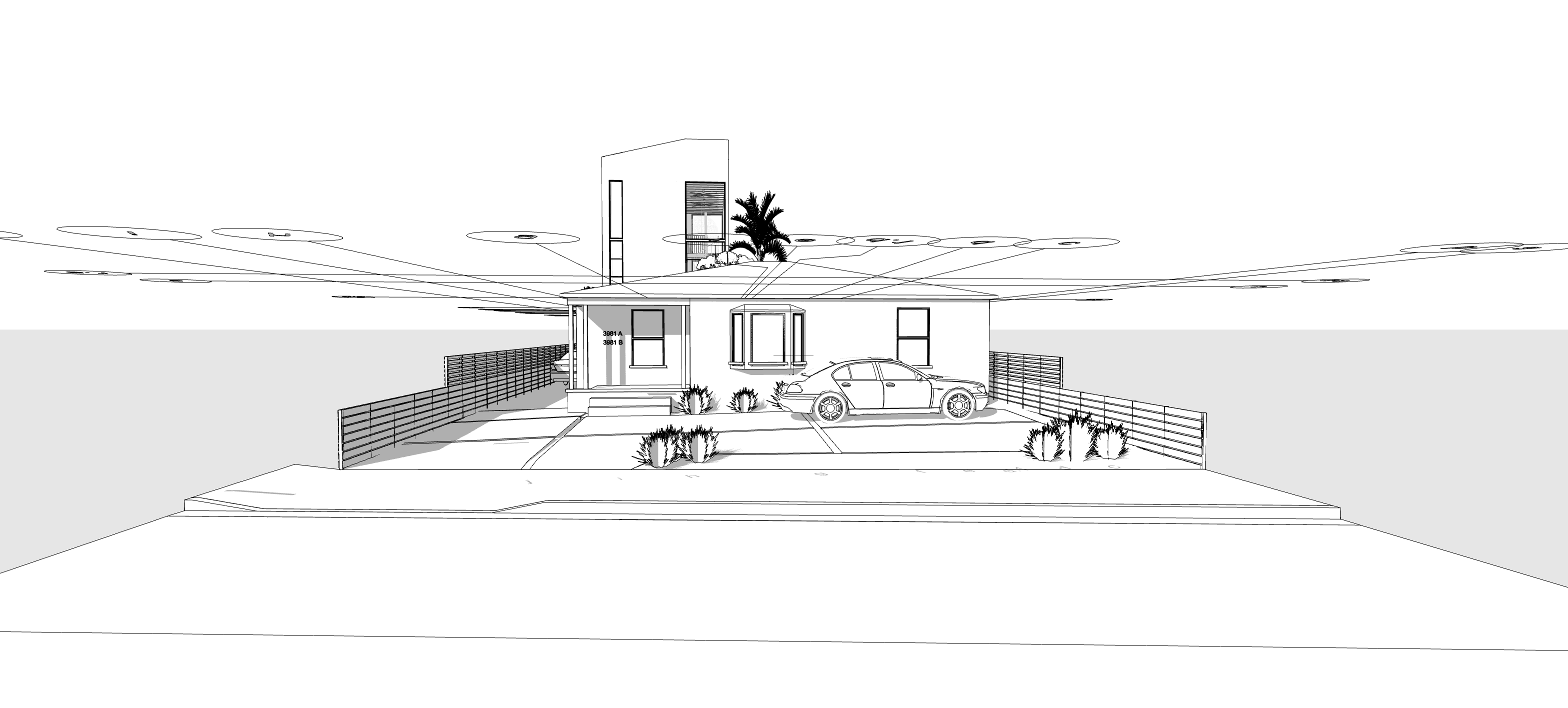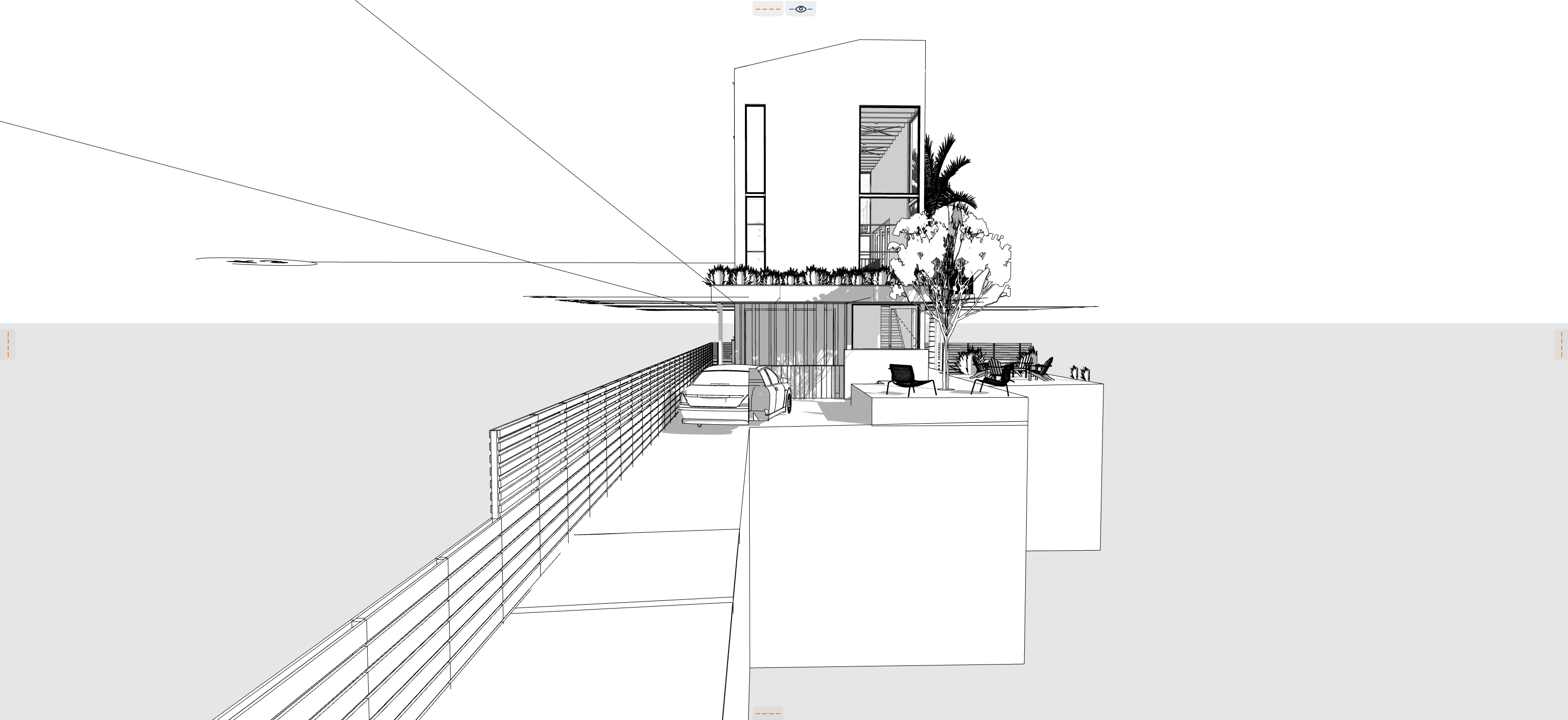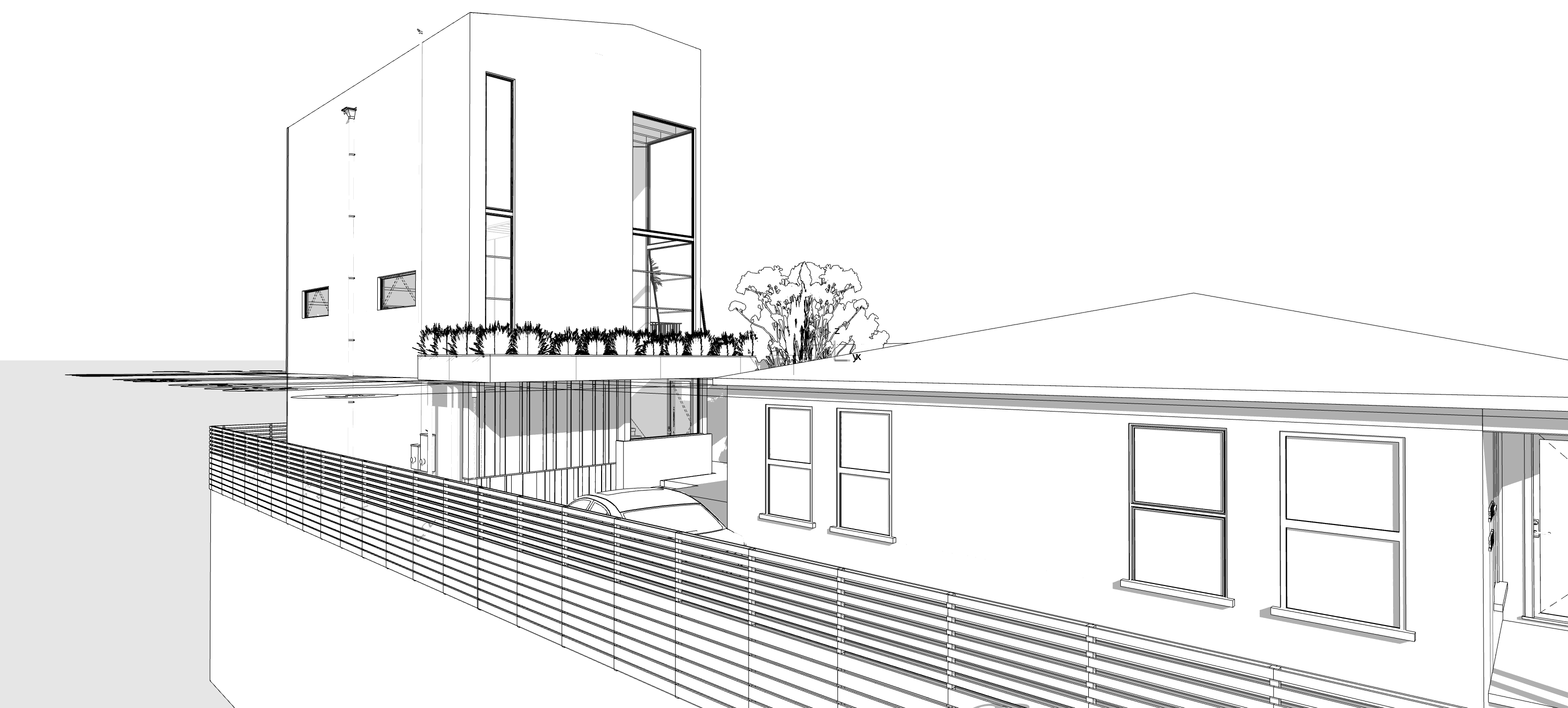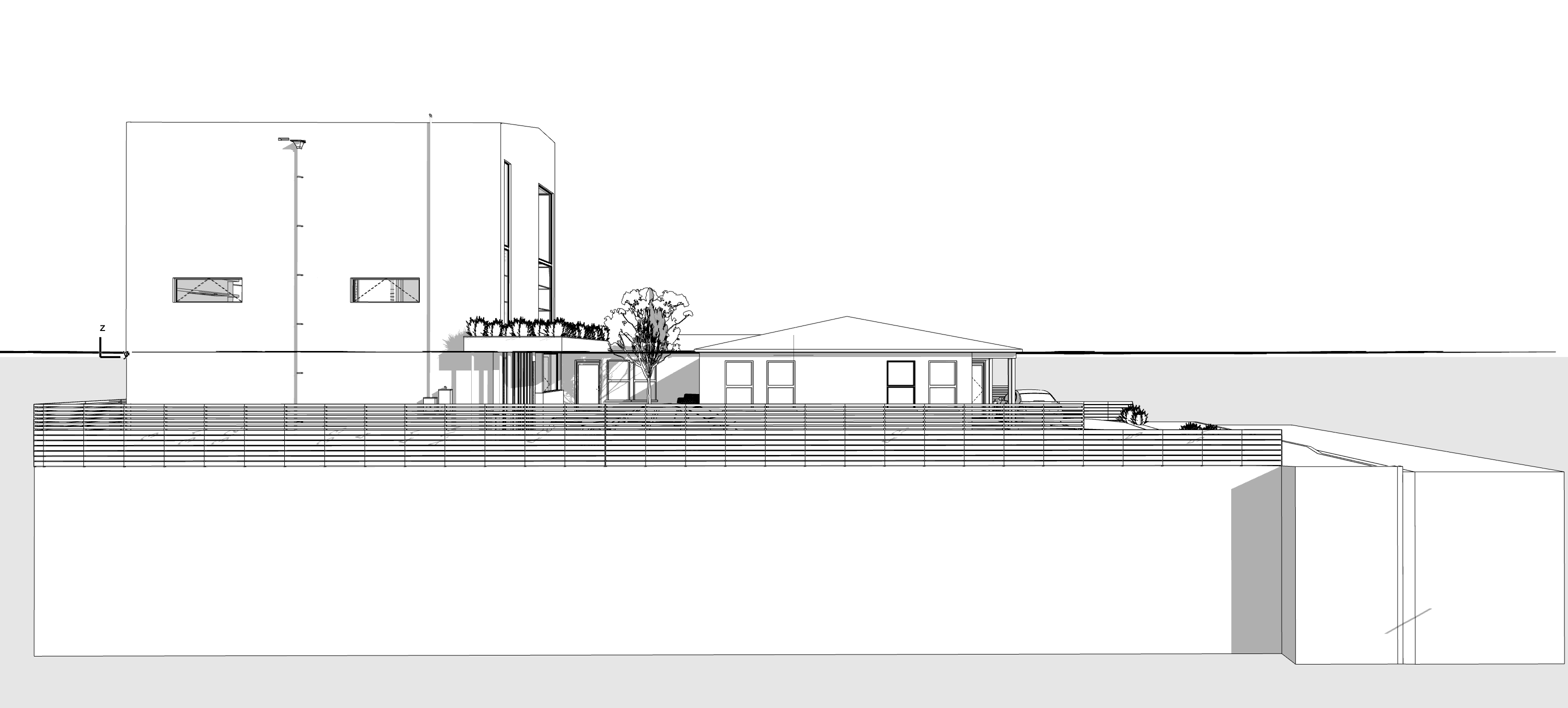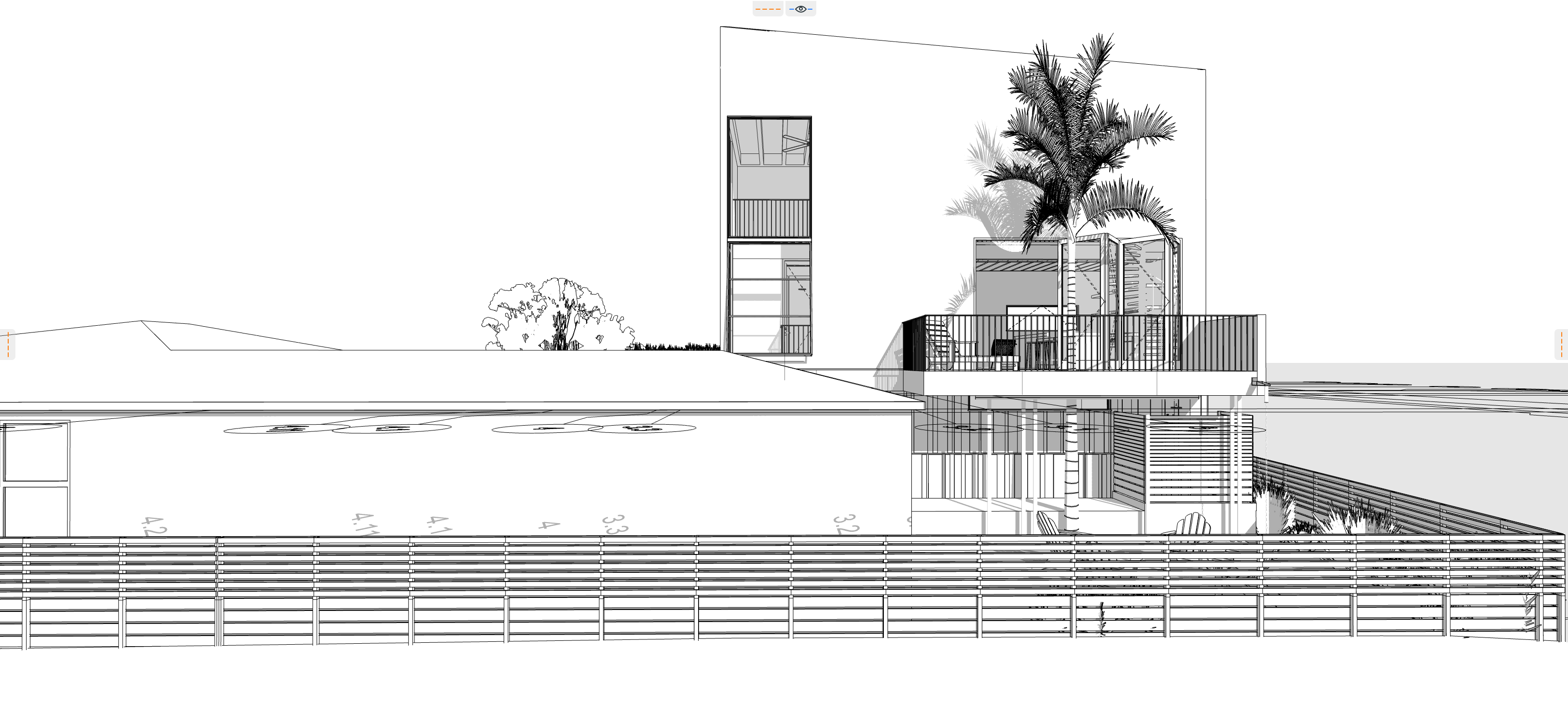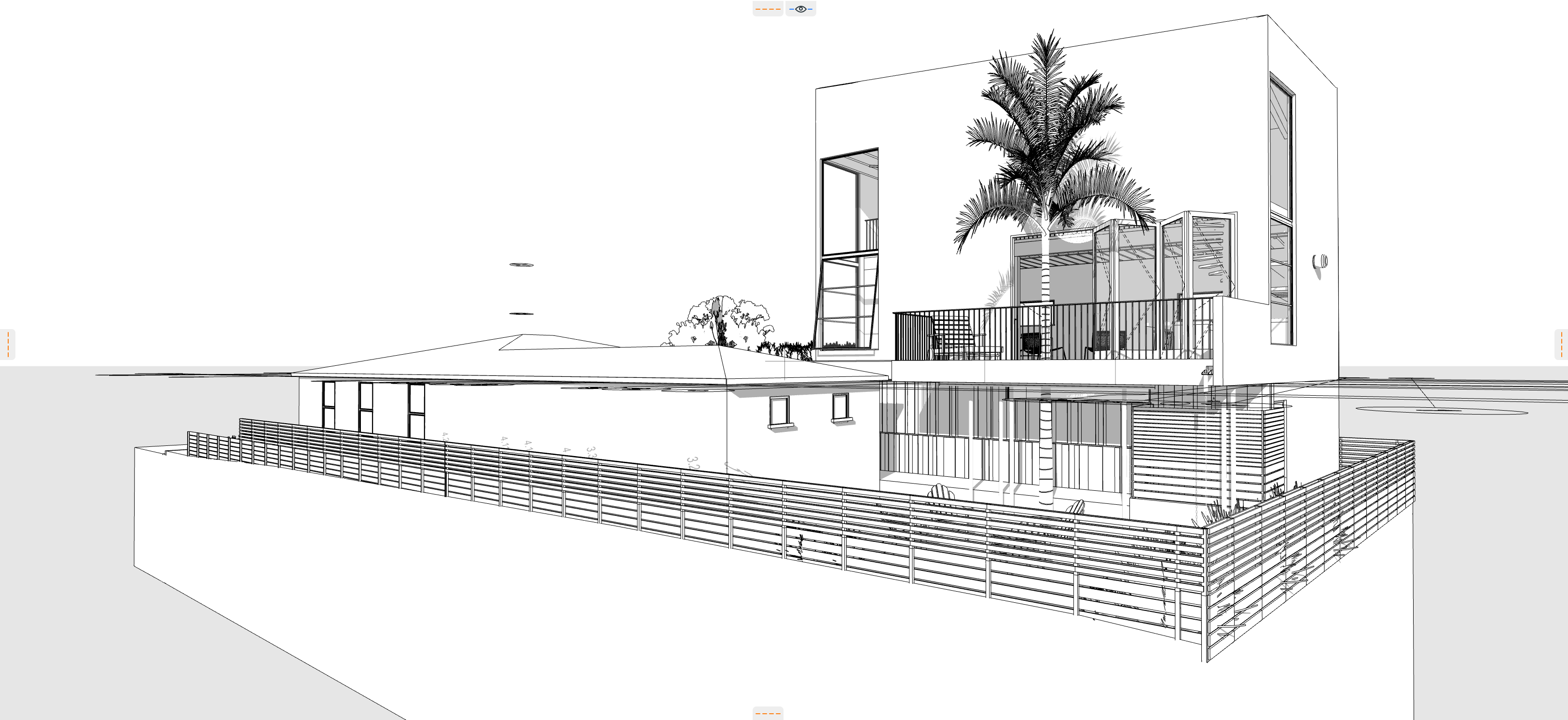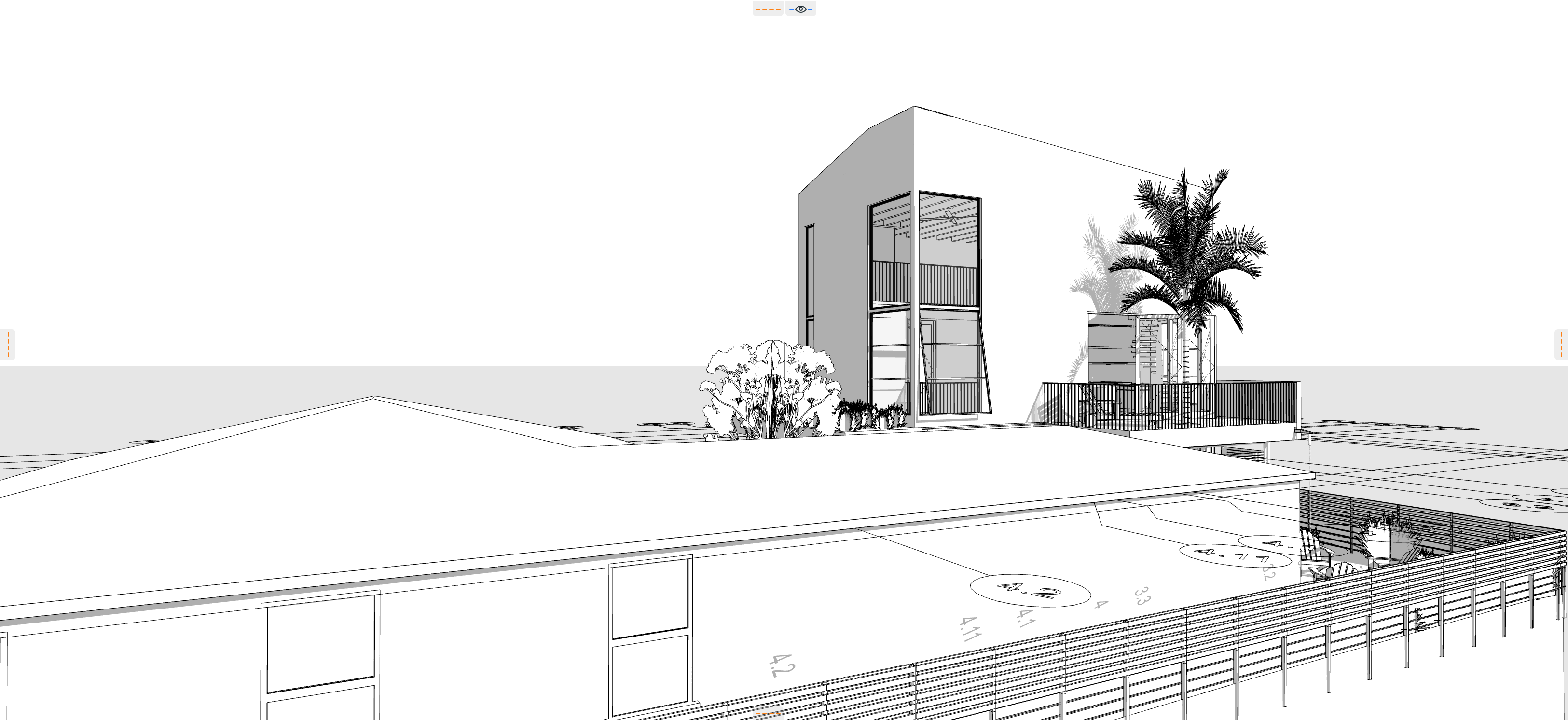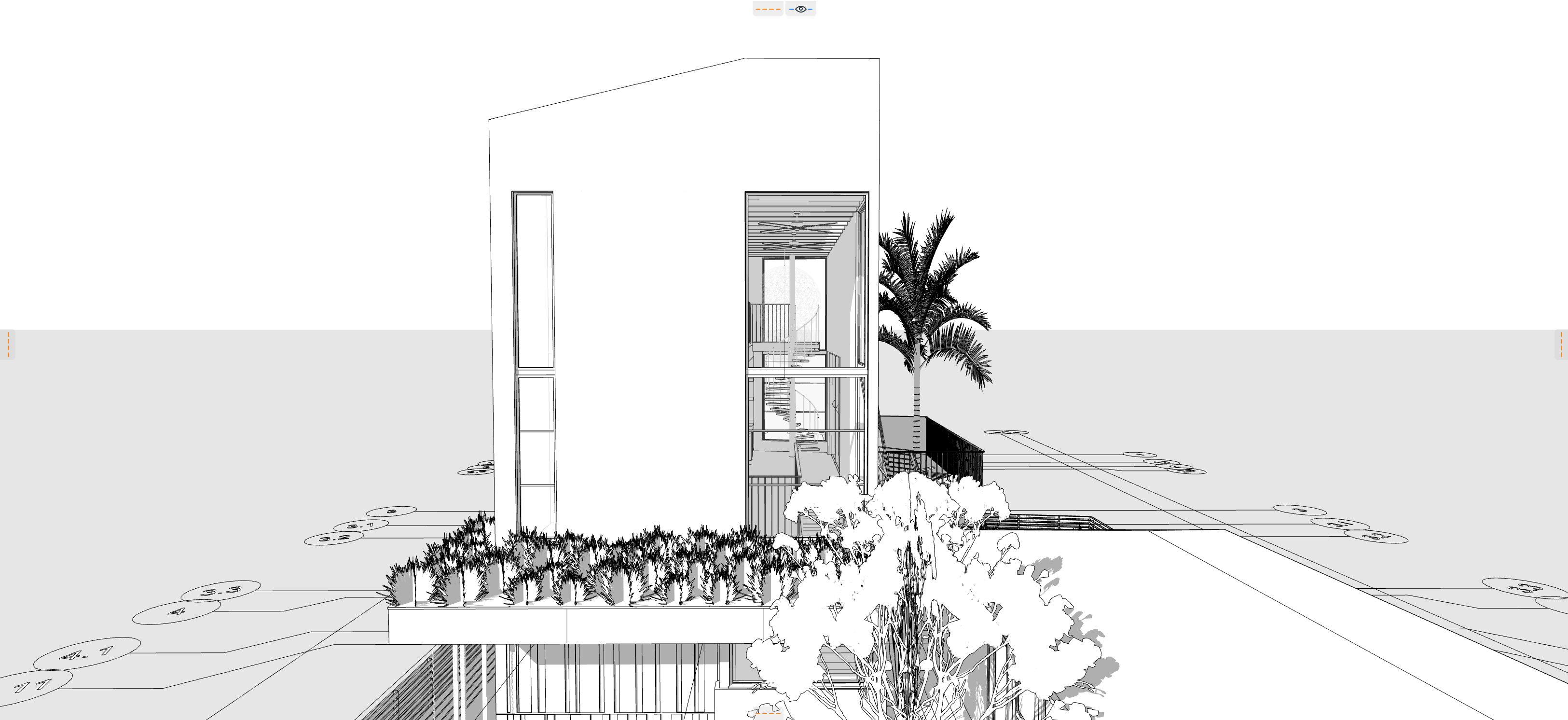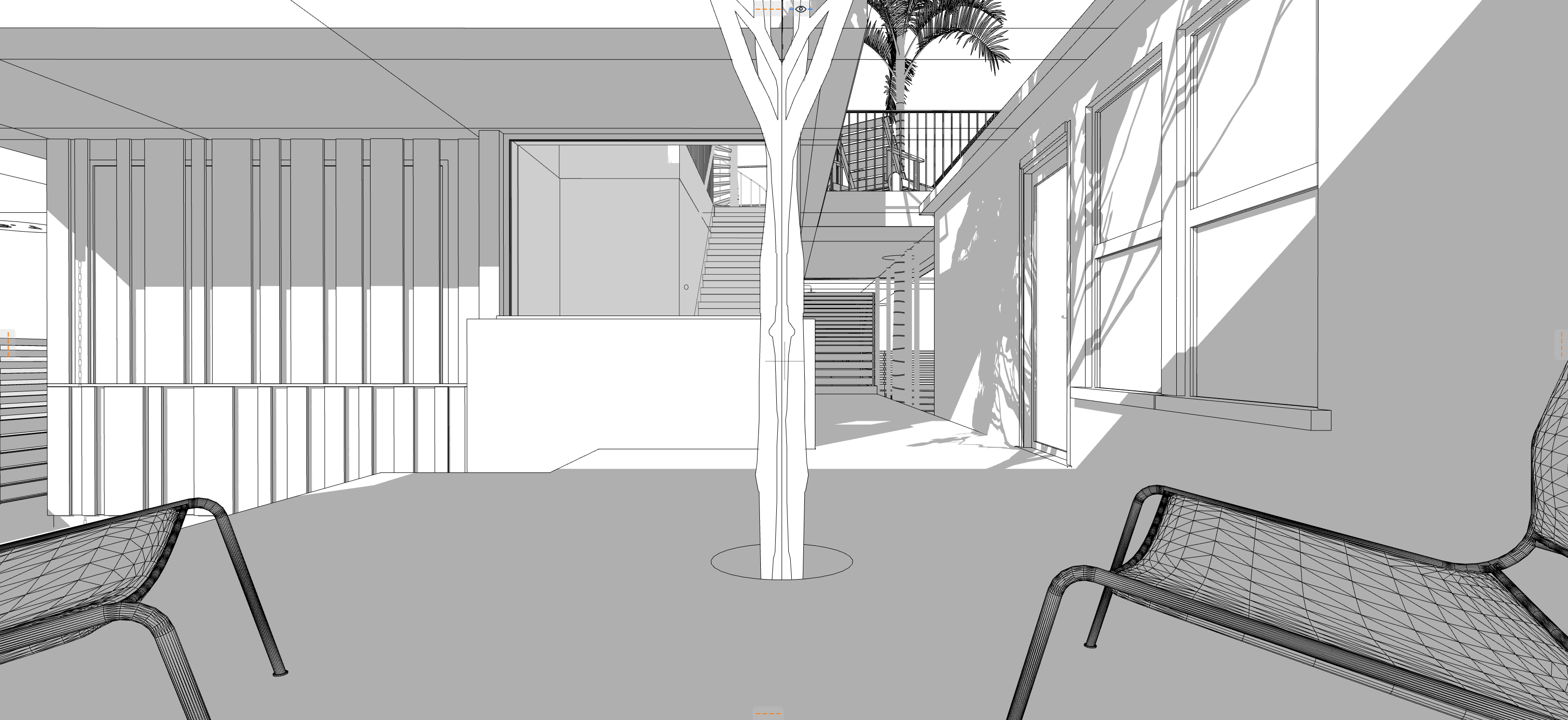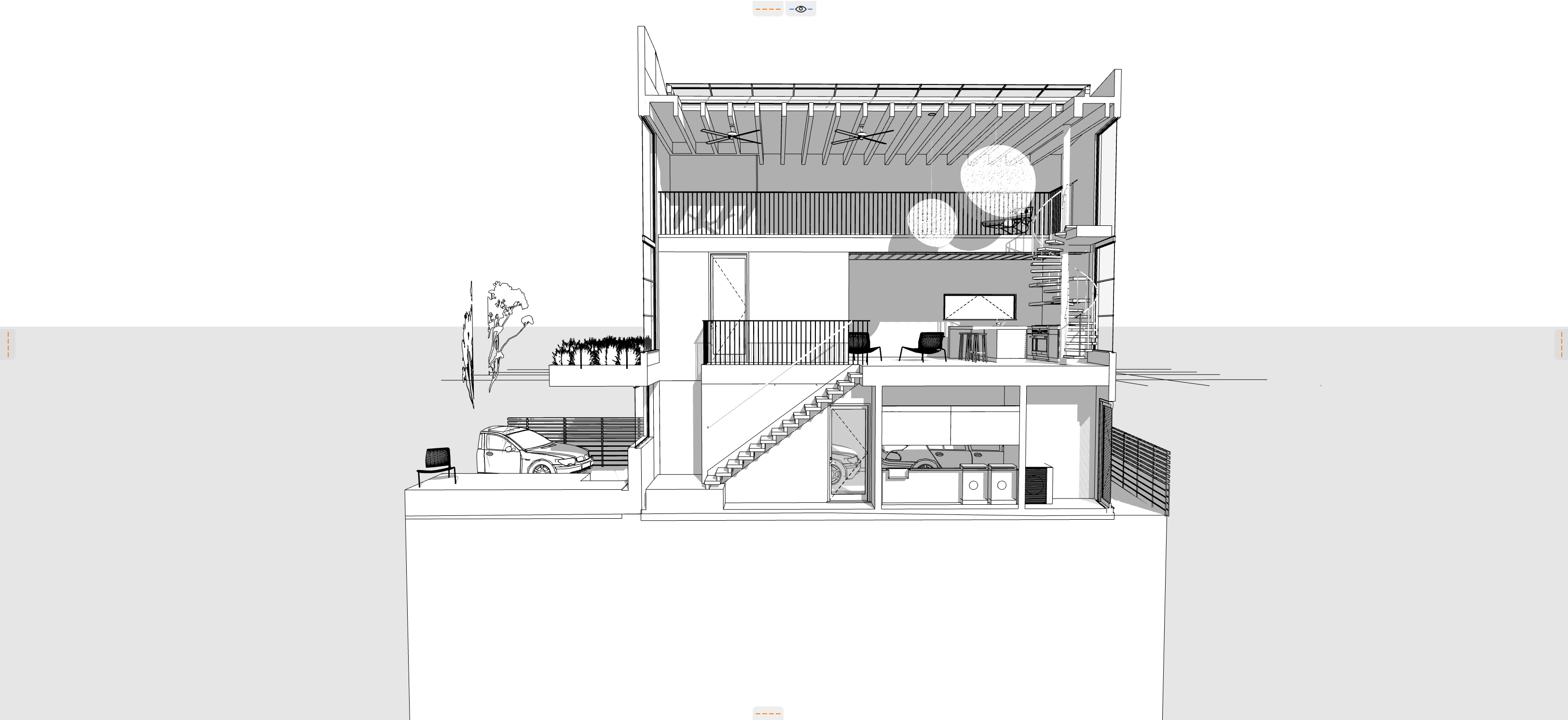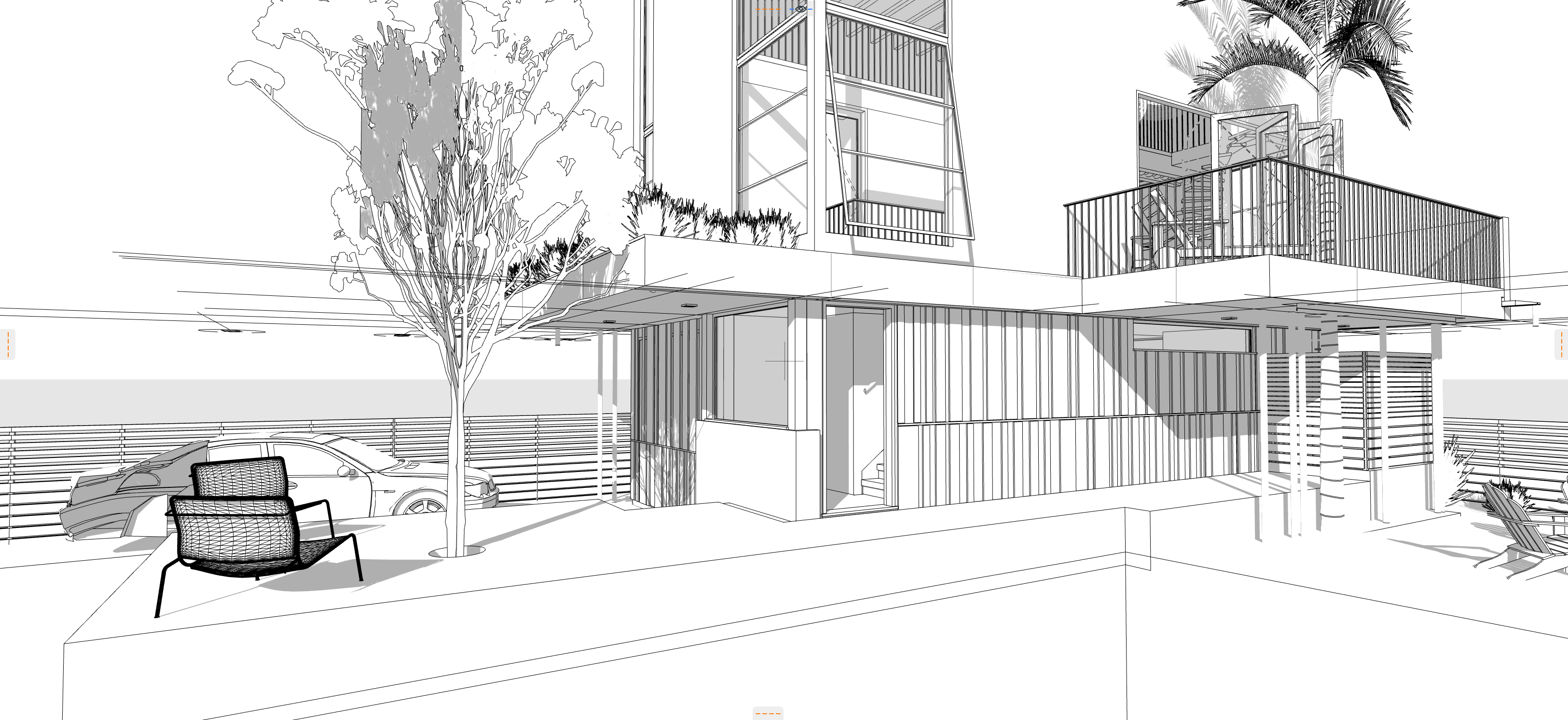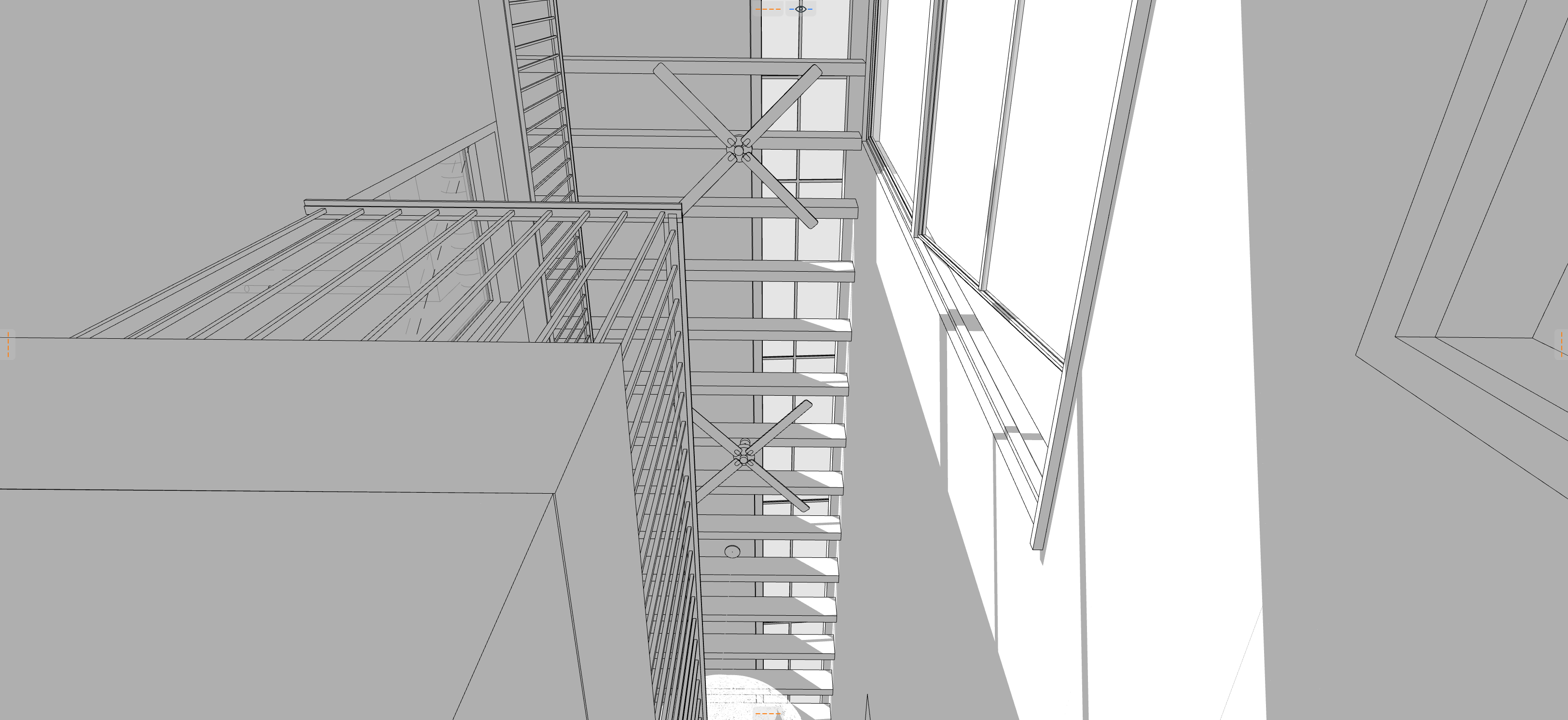 + layouts /
The new ADU is a simply response to the (E) conditions of the (E) home, allowing the ADU to fully accommodate the rear yard while allowing the (E) back yard to remain an open space for gathering, including the interior new deck being established between the two units.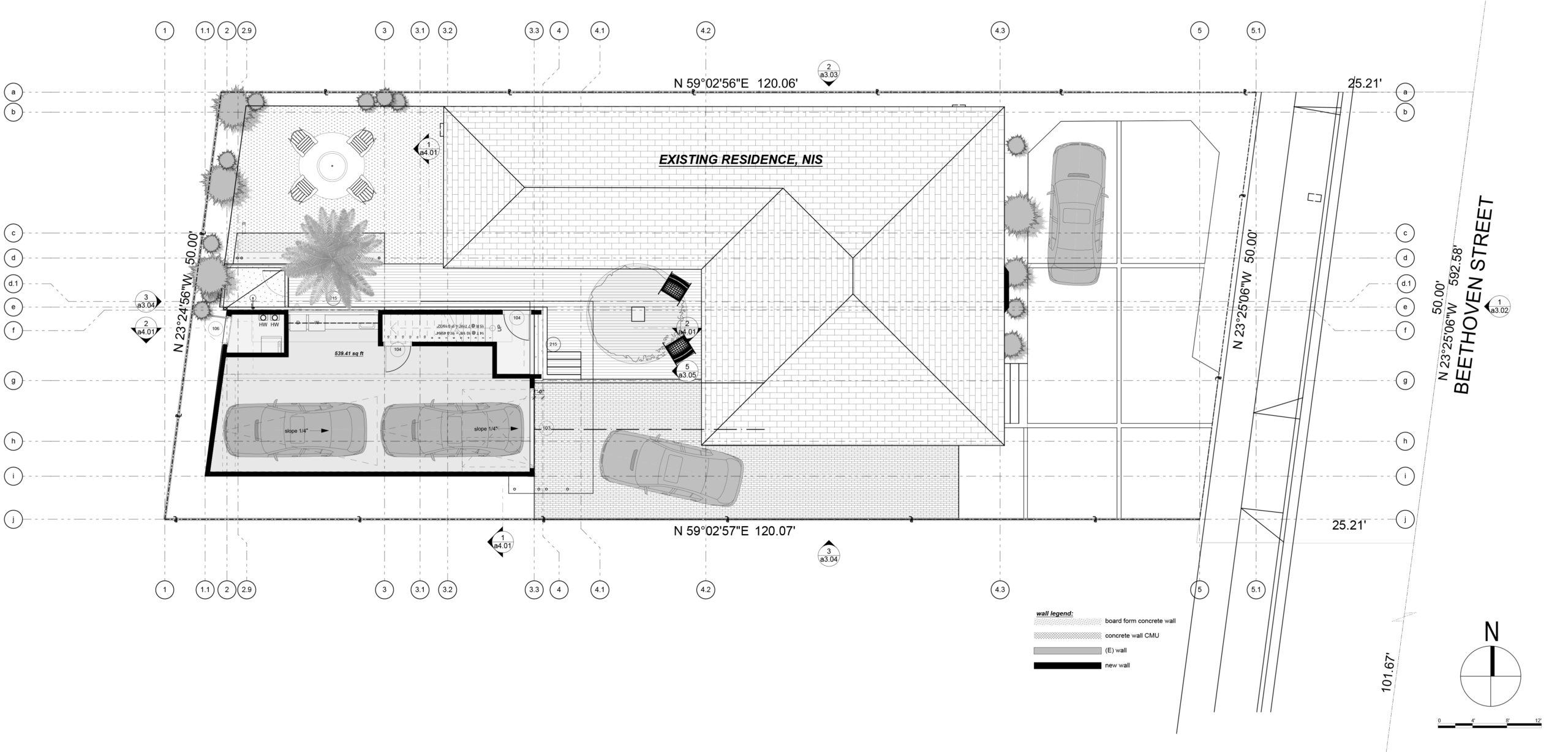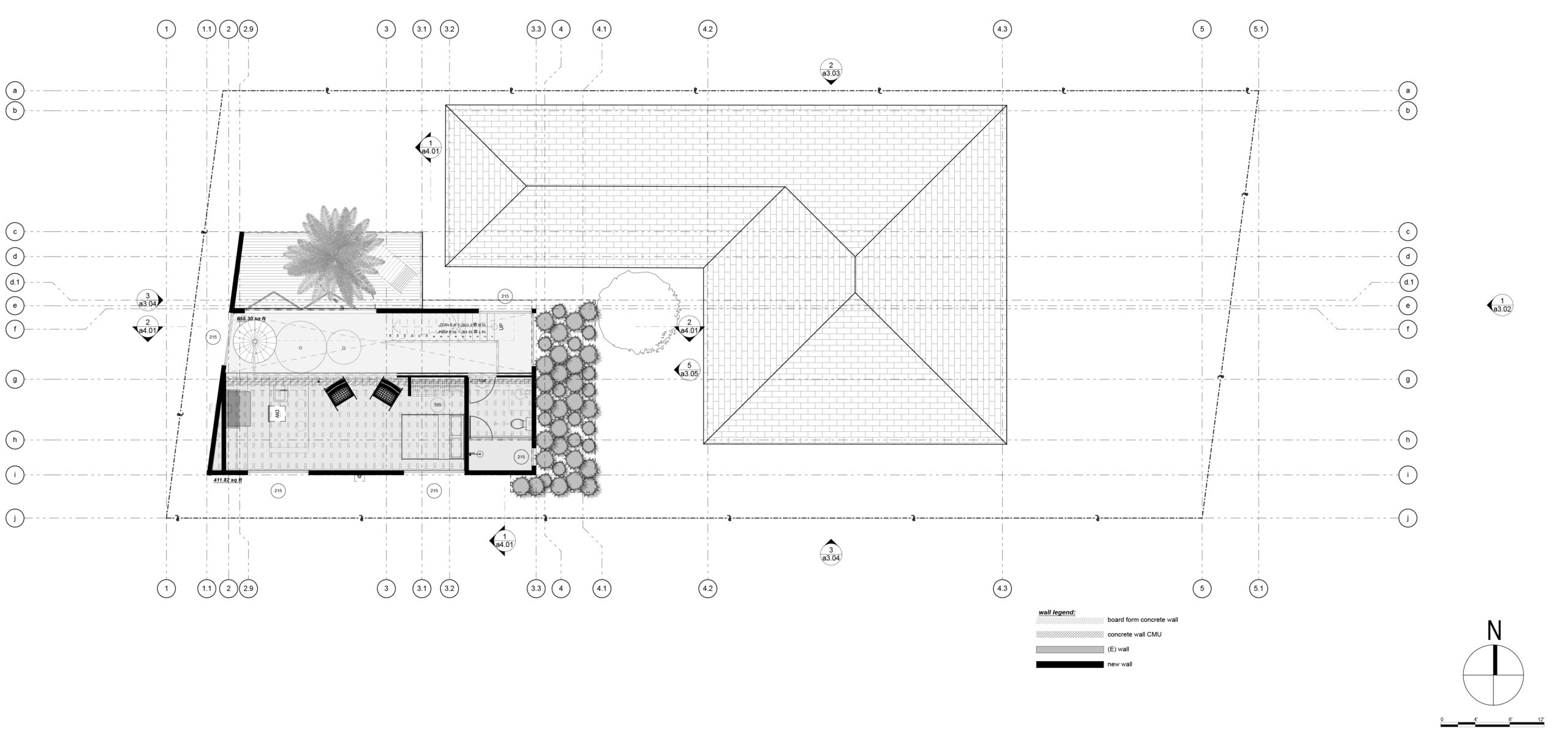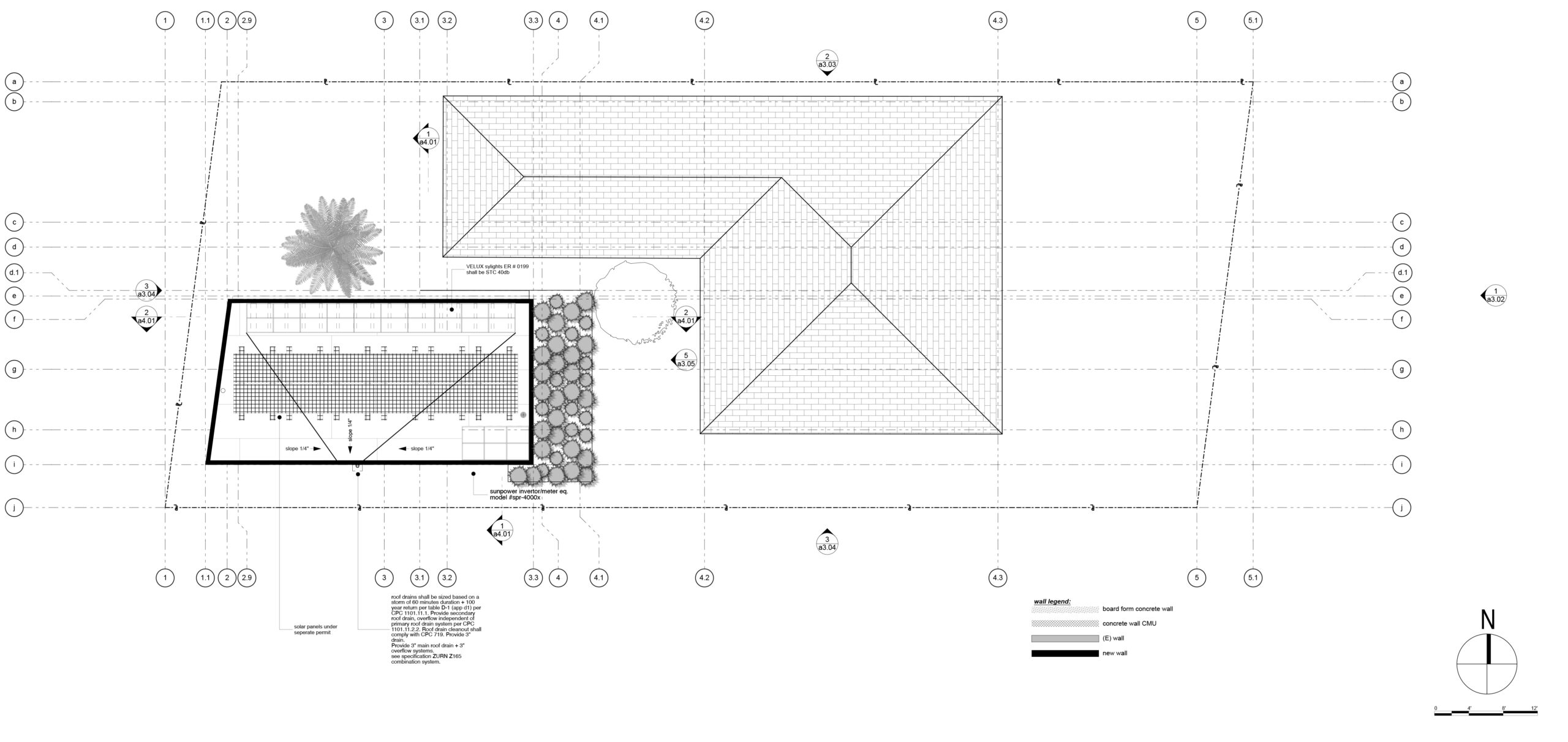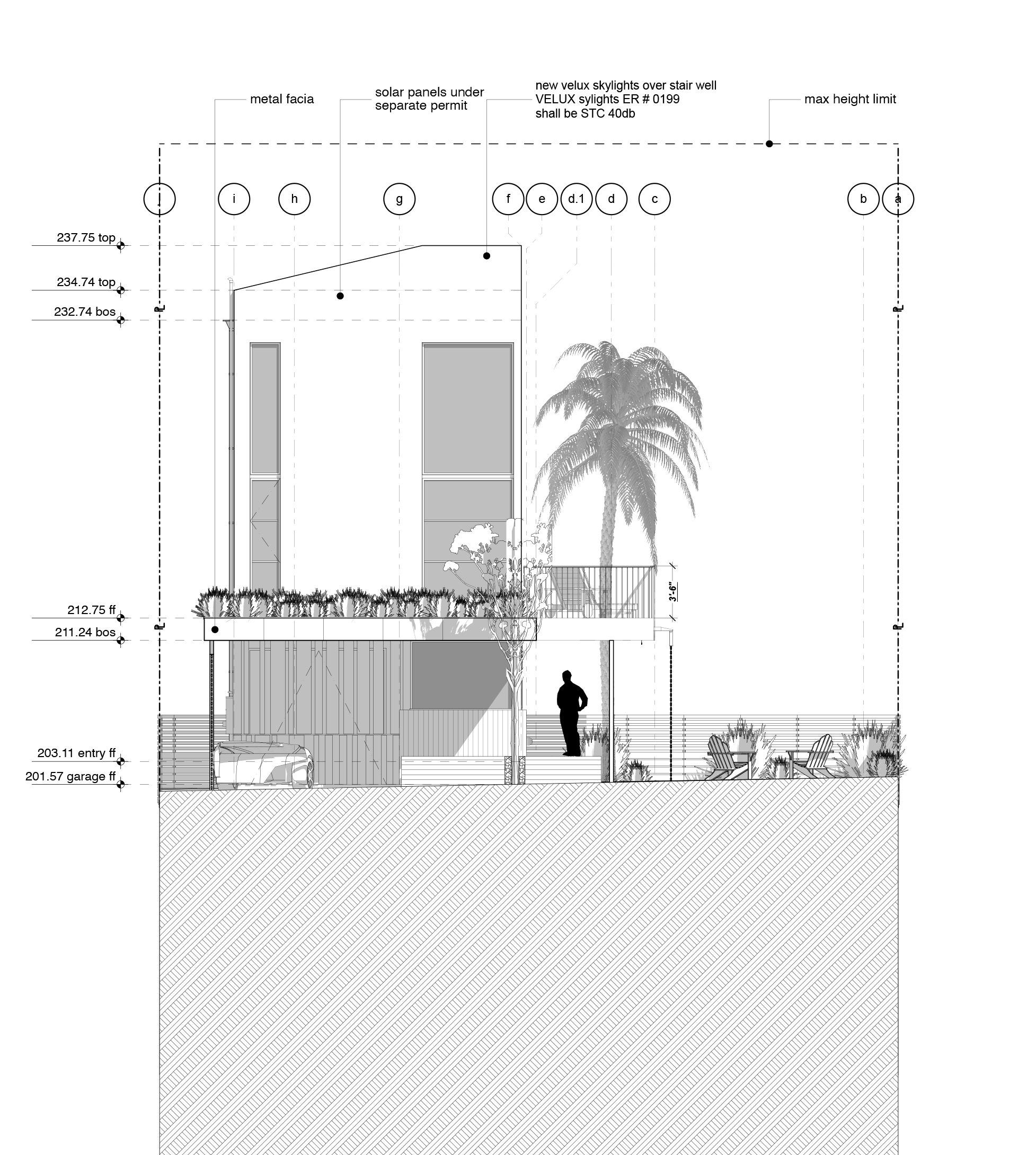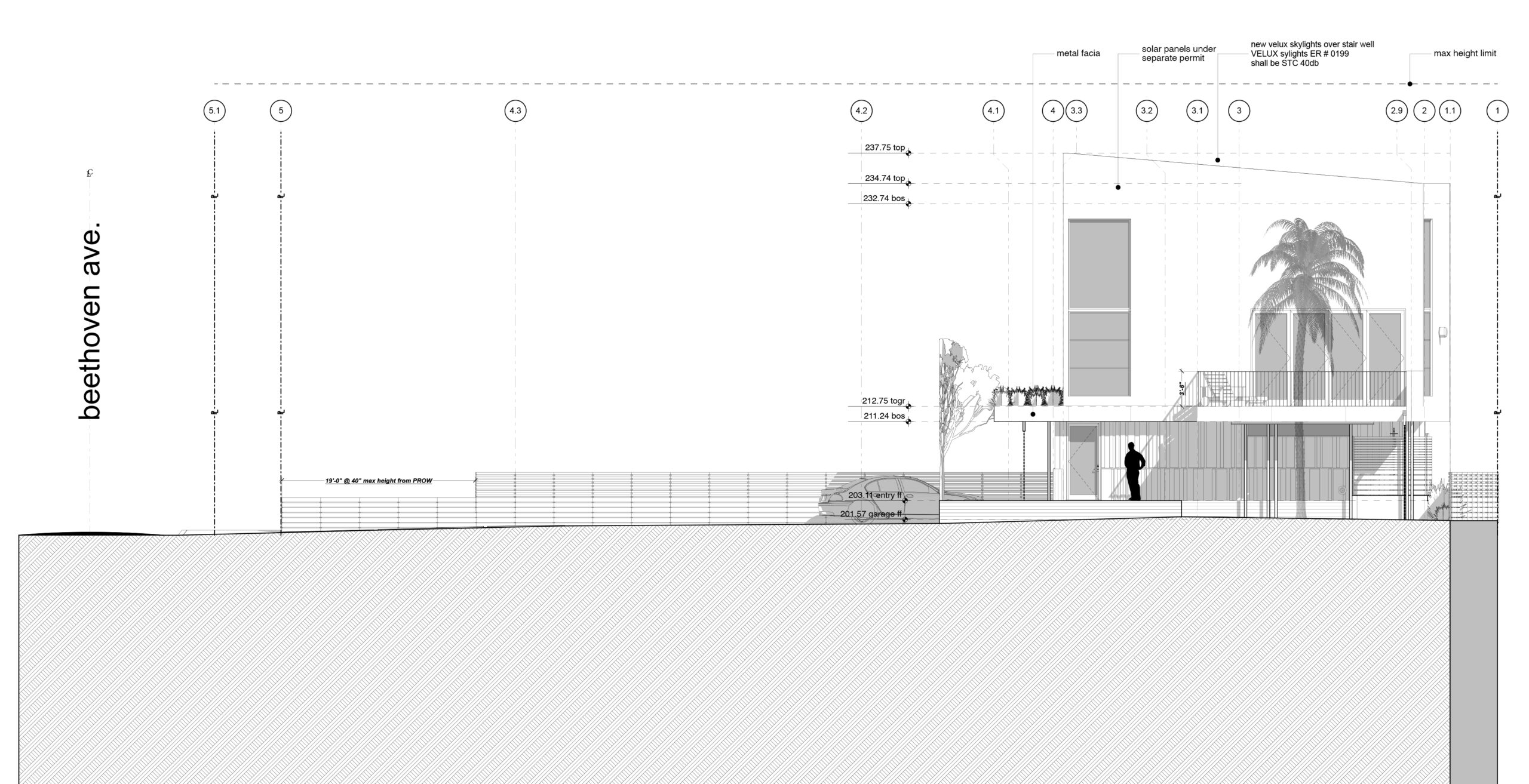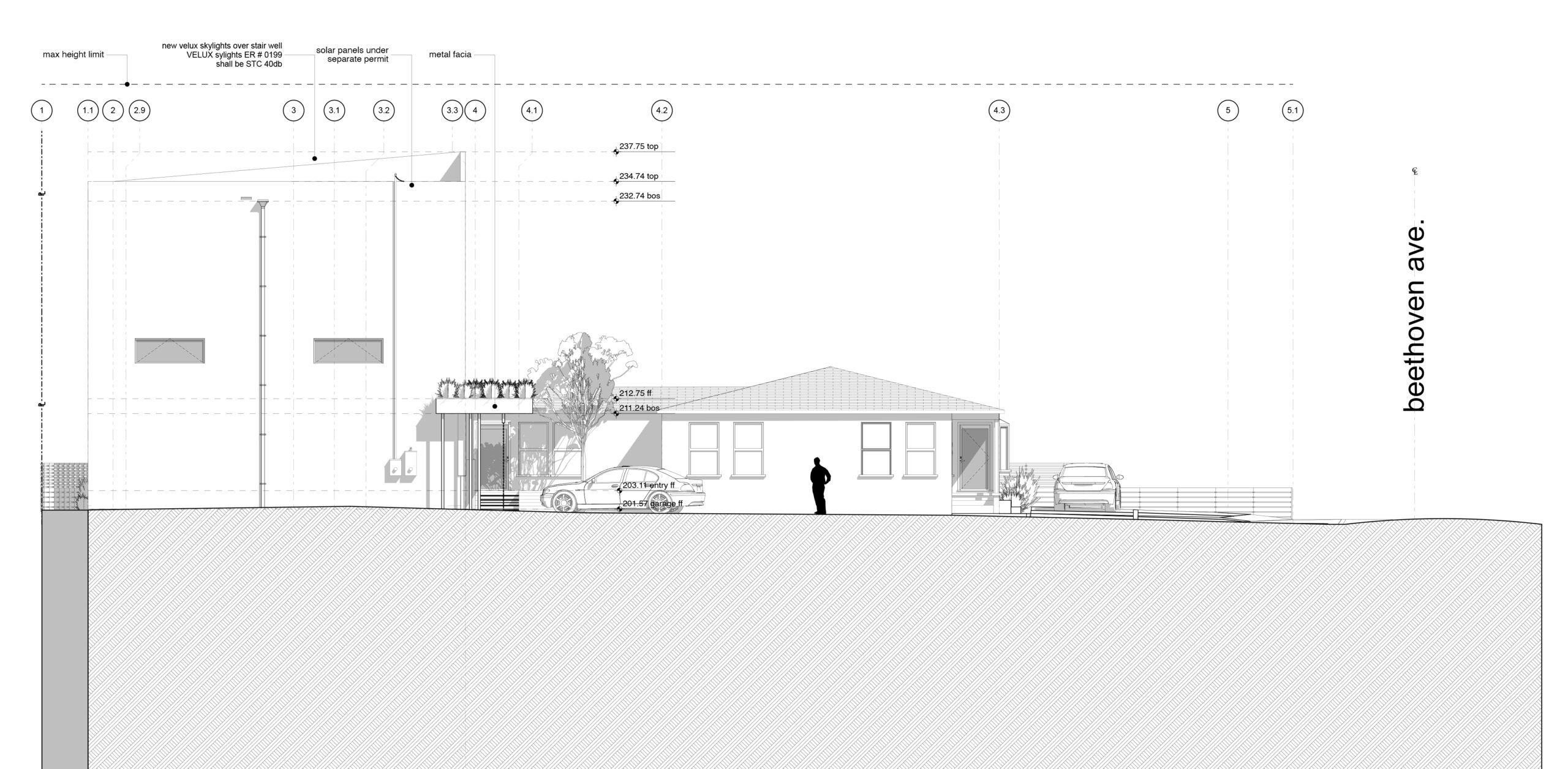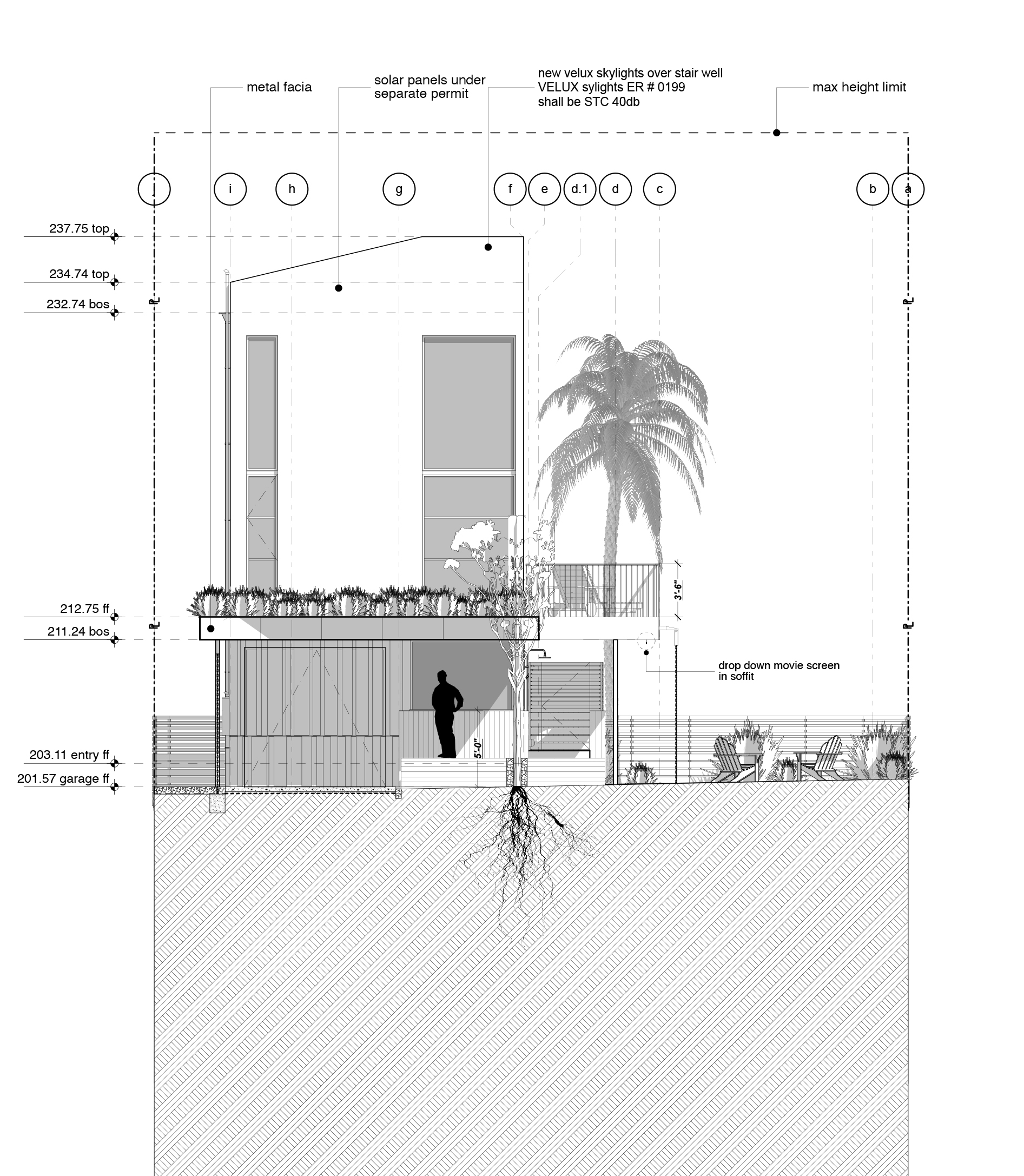 + credits /
Design + Build: humnlab+ architecture /
General Contractor: Harris, Construction, Inc. + humnlab+ architecture /
Structural/MEP Engineer: MMSE Engineering, Mike Martineze, C.E., S.E.
Soils Engineer: Terradyne Environmental, A. Wahab (SAM) Noori, P. E. QSD
Civil Engineer: T Engineering Group, Inc., Quang Tran, P.E.
Green Roof: Justin Ewart/AAWRP
Photography: DNA_Photography